Nicki Minaj Ass Sells Records Period
Nicki Minaj fashion style has been the center of attention on the issue of fashion in pop culture became talked about since her well talked about injections.
Nicki Minaj poses in Hawaii photo shoot and then 
tweets the racy pictures
.
Nicki Minaj is wonder woman in sexy wonder woman outfit showing and
outlining all of her curves.
Nicki Minaj Fashion Style
– Nicki Minaj stays popping at her performances where tens of thousands of fans all crave 
more of her talent
.
http://youtu.be/e2Mht_U4z_k
Nicki Minaj has such a unique sense of fashion. That's one thing you can appreciate about the multiplatinum selling rap artist. In fact, what has been most controversial about Nicki Minaj is her wardrobe. There has been speculation that her behind is not real. But you have to admit, real or not, Nicki Minaj has it going on .
This may be the very thing that separates Nicki Minaj apart from her competition. . . Her bubble butt! Aside from having a gigantic fashion selection, Nicki Minaj also makes some pretty impressive songs as well. Nicki Minaj has had a number of hits. Nicki Minaj has also been a controversial figure in the media. When the newcomer rap artist had a feud with Little Kim, that caused a lot of controversy. Apparently, the feud was essentially due to the fact that Nicki dresses as outrageous as Lil Kim did when she was more popular. Lil Kim calls herself "Queen Bee" because of her influence on fashion and urban clothing among hip hop females. Nicki Minaj's fashion statement is just a bold, but Lil Kim felt disrespected that Nicki Minaj didn't acknowledge her. A feud between the two feisty female rappers was born.
Nicki Minaj  from side angle with red tight jump suit.What fans love about Nicki Minaj so much besides her huge personality, are the rapper's multiple personalities that have been known to make guest appearances on her albums.
Fans are mystified by the alluring rap artist. Nicki Minaj is known for starting a variety of trends. Among those trends is Nicki Minaj's exotic clothing. She is bound to receive attention wherever she goes. And then there's also the fact that Nicki Minaj's sexuality was also in question – something she never acknowledged or denied. Nicki Minaj is charming, sexy, intelligent, and she has thick thighs and is a huge influence in fashion. She is adored by fans all over the world. Everyone is interested in what she is doing and what she is wearing. She has a unique and eccentric fashion style that is often compared to Lady Gaga.
Minaj is also one of the best-selling female rap artists in the history of rap music. Fans have questioned why Nicki Minaj has had surgery on her rear-end. The answer is so simple. Sex appeal sells records. In other words, the more noticeable a woman's assets are, the more albums she will sell. And what could be a better trend than body parts ?
Nicki Minaj Looking Video
The song "" has over six million views on Youtube. This is the official song, "" by Nicki Minaj and Big Sean. This is the full remix to the hit song found on YouTube.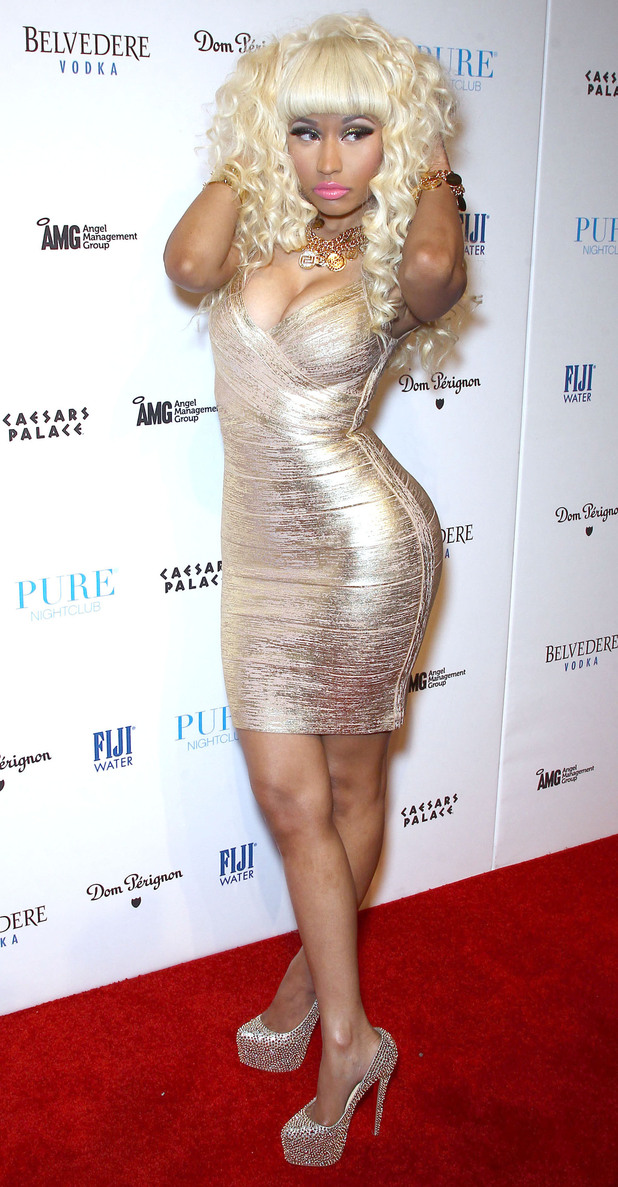 Nicki Minaj in silver mini skirt.
 Look at her style as she crosses her legs in those attractive stiletto's.
Nicki Minaj fashion style popping
 on stage while hugging Kanye West.
Nicki Minaj seems to love showing her curves and mainly her thick build off for the public. Nicki Minaj decided to pose for a photo shoot in which she would exploit her voluptuous figure and curves. Mainly that huge fashion wardrobe, she has no problem with flashing in front a camera at any given point in time. We are not complaining and not even women seem to be offended as her fashion trends are very influential among ladies everywhere. In fact, Nicki Minaj reportedly had more followers on Twitter than any other celebrity. Women seem to love Nicki Minaj as much as, if not even more than the males!
Nicki Minaj  has been talked about since the beginning of the artists career. People have wanted to know if she was real or fake. There has been talk and rumors about Nicki Minaj having injections and she has never really denied any of these rumors. Earlier this year, Nicki Minaj  surfaced on the internet again. Nicki Minaj promised fans that she would be showing off pictures on Instagram when she was done at the photo shoot. Her words, "a full back shot." Fortunately for curious fans, Nicki Minaj posted pictures of herself  with photos of her in a thong bikini. Omg!
The pictures of Nicki Minaj  are pure works of perfection! One could imagine, with all the controversy that Nicki Minaj  always causes, Twitter made these shots of Nicki Minaj  some of the most viral things on the internet. The edgy, hardcore, but sexy rapper, who has also been known for having beef with Mariah Carey, definitely looks good in her clothes. One could argue that Nicki Minaj has a flawless shape and size! Yet another could argue that Nicki Minaj is hyped up by media and advertisements! Everyone loves seeing Nicki Minaj astound us with her likeable personality and extreme fashion clothes!
Nicki Minaj featured in a tight black revealing lingerie with white jacket dress shirt. You have to love Nicki Minaj's sexy curves!
Picture of Nicki Minaj's in tight leather catsuit on stage and a model wearing her suit for cheap price. Any women would look as sexy as Nicki Minaj in this outfit.
Nicki Minaj
poster in purple gloves is a collectors edition poster, I am sure, but not certain.
All I know is that she looks so hot in this outfit and this poster captures her full likeness.
People always compare Nicki Minaj with Lady Gaga. So who do you think has the hotter?
Nicki Minaj sexiness being flaunted at the BET awards.
Nicki Minaj with blonde huge afro and a tight white and pink catsuit with stiletto high heel pumps on.
Nicki Minaj back caught as she walks away from the stage and turns around.
Nicki Minaj wearing a tight fitted black dress and vest with a low v cut and string straps with leopard platform high high stiletto shoes.
Nicki Minaj standing next to Amber Rose on stage wearing a blonde wig and white sunglasses in a military fatigue thong.
Nicki Minaj takes a shot for the camera. This is a full body body pic of Nicki Minaj exposed. A very good shot of Nicki Minaj .Nicki Minaj rocks! The 29-year-old, once crowned American Idol judge, always wears the most interesting and ostentatious clothing which is why many have compared her with Lady Gaga. The more famous she gets, the more media pundits try to get as much coverage on the pop icon as she will give the fans. But it really doesn't matter because Nicki Minaj sells records. Period!
These are pics of 
Nicki Minaj before she became a famous heart throb sensation.
Nicki Minaj with her signature angry face on the cover of Blackbox magazine.
Nicki Minaj in tight blue star sprinkled spandex and brown leather high heel boots with a blue and black leather jacket.
Nicki Minaj totally sexy leopard dress. The design is immaculate and a blend of leopard and zebra colors. The clash is quite magnificent and extremely noticeable. What's even more noticeable about this selection are the super sexy knee high leather boots that set this outfit off proper.
Nicki Minaj wearing a a pink cotton body suit with pink tight leggings and fur and seude high heel stiletto pumps.

Love Nicki Minaj all you want. One thing some claim to notice is that the pop star is getting lighter. Or is this just their imaginations?
Nicki Minaj … omg! This is a very nice picture of Nicki Minaj at a show wearing a tight fitted white short dress with very noticeable high heel pumps that are platform pink. Somehow it seems to go with her pink hair.
Nicki Minaj . Nicki Minaj is crawling on the sand while on a beach in London
wearing a pink bathing suit and long hair.
Nicki Minaj perfume in a pink box on display.
Nicki Minaj wearing a shiny blue thong and strap boots with a short tight jacket sitting on a green motorcycle and also in tight python spandex with shiny stilettos and a leather short tight fitted jacket. Though this is a skimpy outfit, Nicki Minaj somehow manages to pull it off… perhaps because we are always used to seeing her dress skimpy.
Nicki Minaj on stage at BET awards in black thong and black stockings facing away from the camera.
Nicki Minaj . Nicki Minaj wears the craziest costumes. But we love when 
Nicki Minaj is well displayed
 like in this picture
as she wears a yellow umbrella dress that flies open with a thong underneath and pink long wig.

Nicki Minaj
getting rather intimate on stage with pop sensation, Rihanna.
Nicki Minaj . This is an unbelievably 
sexy picture of Nicki Minaj
 in a tight flowered mini skirt and stiletto high heel pumps.
Nicki Minaj lipstick in pink.
Nicki Minaj . This is picture of 
Nicki Minaj tossing one leg up.

Nicki Minaj . Picture of 
Nicki Minaj in a red thong
.
Nicki Minaj . 
Nicki Minaj wears a black spandex outfit
.
Nicki Minaj . Comparison of 
Nicki Minaj's
 with Kim Kardashian. Both women are wearing tight outfits with Nicki Minaj wearing tight spandex and Kim Kardashian wearing a tight fitted dress.
Nicki Minaj . This is 
Nicki Minaj 
on a beach in the sand wearing green hair and a pink thong and bra. I bet 
Nicki Minaj caused quite a stir
 that day!
Nicki Minaj in ripped denim jeans, black boots and a low cut tee shirt that shows her impeccable abs.
Nicki Minaj
wearing a laced lingerie piece that is black and netted see through.
Nicki Minaj . playful picture of Nicki Minaj crawling on the floor in a tight, sexy pink bathing suit with a slight smile on her face.
Looks like she is having a good time.

Nicki Minaj in a black lace body lingerie outfit with thick heavy gold chains and beige stiletto pumps while she sports a curly afro.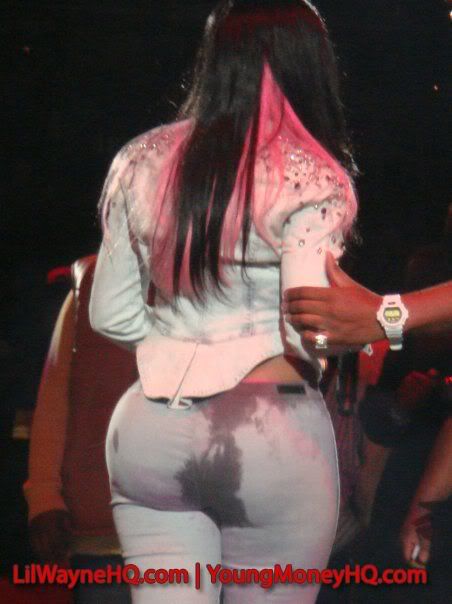 Nicki Minaj back photograph in tight pants and cream jacket. Note that she also has pink highlights in her black hair.
Nicki Minaj . locked up in a yellow cage trying to get out.
Nicki Minaj . 
Nicki Minaj
 in black stockings and lace on stage bending over.
Nicki Minaj . In this picture 
Nicki Minaj does a sexy shake
 in apopular pink and green fatigue outfit in a dessert and thong with her hair wrapped.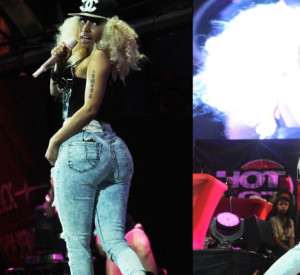 Nicki Minaj in tight skinny jeans.
Nicki Minaj in tight thong laced black with long hair and black stiletto heels.
Nicki Minaj wearing tight skinny blue jeans and light green tank top shirt.
Nicki Minaj
wearing a hot black and yellow skirt with a fashionable belt and accessories.
Her
sleeveless blouse
comes down to her mid section and leaves her belly exposed.
Nicki Minaj walking in knee high black leather boots, pink leggings worn under a mirage short dress with colorful patterns which appears to mirror Moschino patterns.
Nicki Minaj in a yellow and pink dress highlighted with black lines and silver, white and black stilettos.
Nicki Minaj wearing a black patterned catsuit outlined with red beads.
Nicki Minaj . 
Nicki Minaj takes a picture with Lauren London who appears as though she wants to get closer to the pop star.


Nicki Minaj . Black and white photo of Nicki Minaj wearing a black bathing suit and laced black stockings.

Nicki Minaj . Nicki Minaj in exotic, yet sexy, space outfit and matching pink Gumby hairstyle, of course.
Nicki Minaj wearing pink spandex and a body tight white shirt with white sleeves wearing a  bandana and blonde box haircut which is the size of a heavy Afro.

Nicki Minaj . In khakis and high heels with small vest top and also a sparkly glitter body outfit.

Nicki Minaj . Glimpse of Nicki Minaj as she walks away
 from the camera in her yellow dress and high heel pumps.

Nicki Minaj . Nicki Minaj as she stands in beach water with her back facing the camera in a pink swimsuit.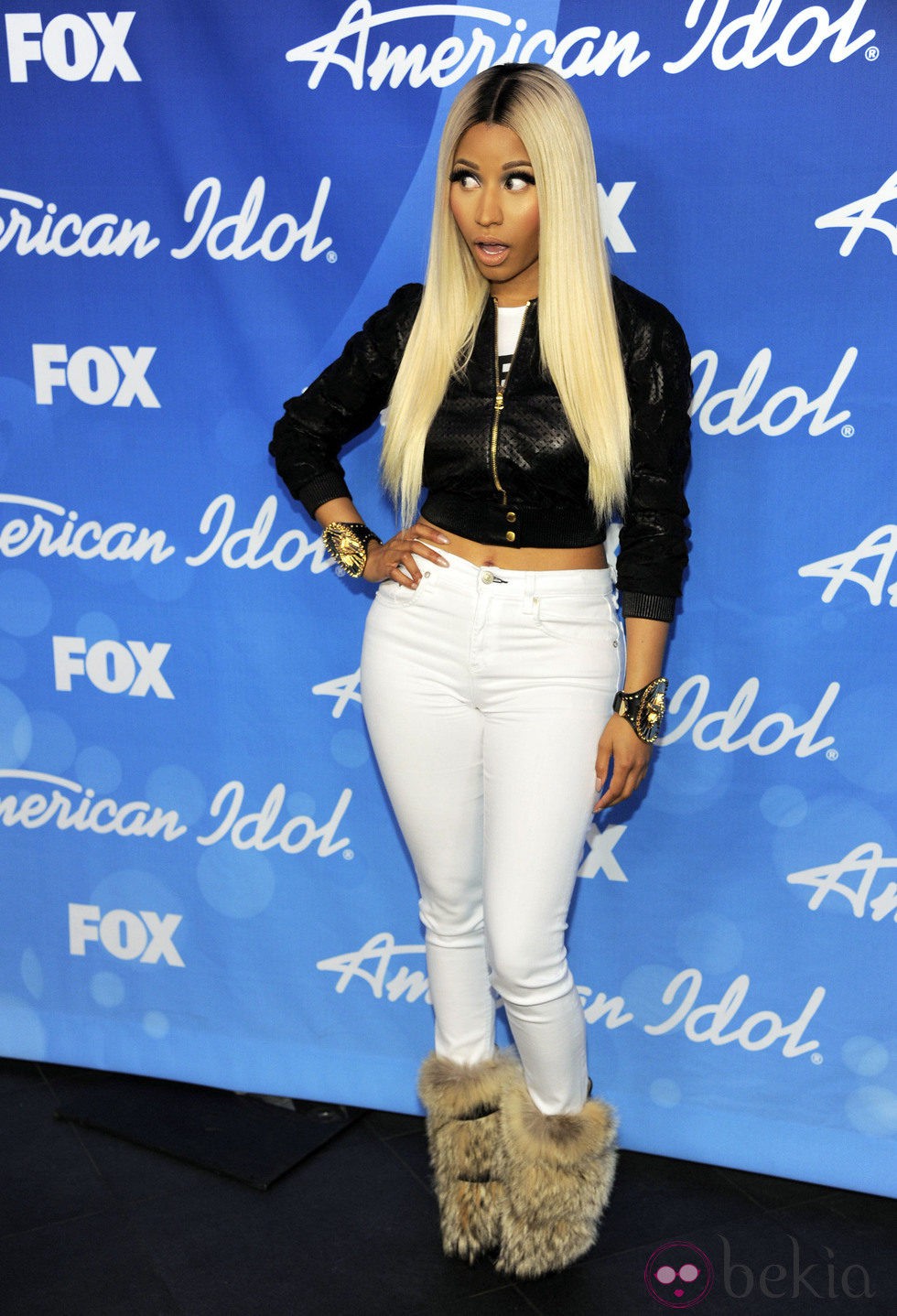 Nicki Minaj . Nicki Minaj standing in fur boots with white tight pants and an undersized black leather jacket with white tank top underneath.

Nicki Minaj . Nicki Minaj sitting in chair backwards with white button shirt and beige stiletto high heel pumps.


Nicki Minaj takes a picture of a fan.


Nicki Minaj wearing lace black and pink lingerie with designs and a zebra purse that appears to look like a Fendi design and blonde hair with bright pink stockings.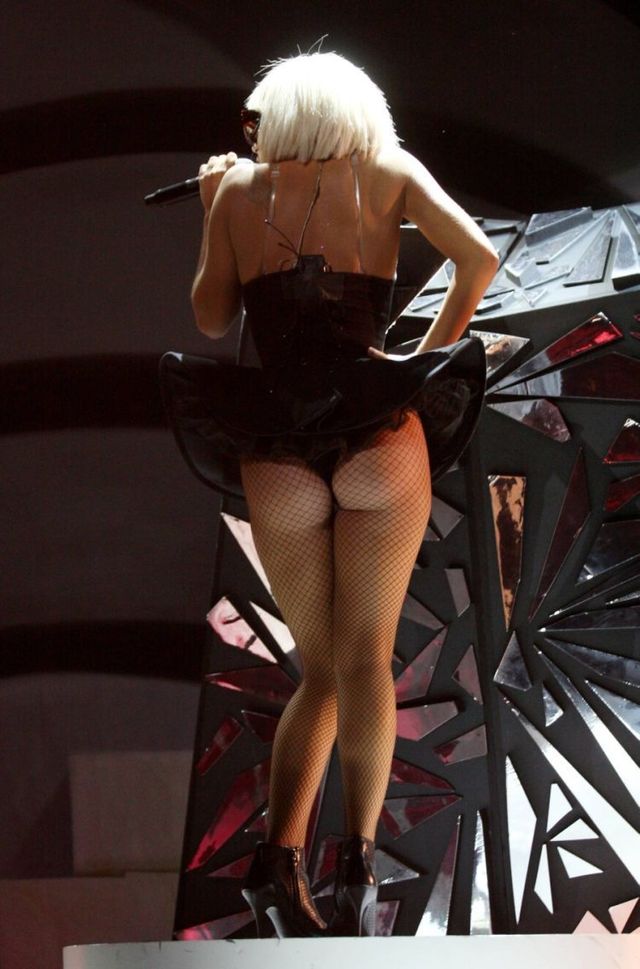 Nicki Minaj in a black umbrella dress from back angle singing into a microphone on stage.

Wearing a colorful costume spandex outfit, pink suede leather boots and a white vest with string straps, Nicki Minaj backside
faces the crowd during one of her shows.

Nicki Minaj . The queen of
 sports spandex while at a function mingles with fans.

Nicki Minaj signs a fans 
butt cheek during a function.

Nicki with one leg up in the air rested against the wall wearing a very short black and shiny mini skirt and high heel pumps.


Nicki Minaj wearing beige lingerie, thong and bra.

Nicki Minaj wearing tight colorful dresses and stiletto pumps, sunglasses and a straw sombrero.


Nicki Minaj . This is Nicki Minaj addressing a crowd in Las Vegas, Nevada in a gold, skin tight dress.

This is Nicki Minaj getting down in her body tight gold dress
on the dance floor.

Nicki Minaj . This is a picture of Nicki Minaj in pink shirt jacket and gray yoga pants.

Nicki Minaj wearing tight jogging pants, brown stilettos with a purse to match, a long tee shirt and pink jacket.


Backshot of Nicki Minaj walking away from the camera in a sexy tight black leather cat suit.

Nicki Minajwearing purple pinkish boots, tight pink spandex legging under blue denim jean shorts and a white tee shirt cut to show belly with emblem of hawk and the words boy across the shirt flosses pink Bamboo earrings and peace sign.

Nicki Minaj side shot in yellow, red and black tight short dress.
NickiMinajets.blogspot.com
CelebrityUtopia.blogspot.com
AllThingsJillScott.blogspot.comNicki Minaj did a song called . Here are the lyrics to the song:[Hook]
Stop…..now make that motherfucker hammer time like…[Verse 1: Big Sean]
Wobble-dy wobble-dy wa wobble wobble
I'm st-stacking my paper my wallet look like a bible
I got girlies half naked that stuff look like the grotto
How your waist anorexic and then your is colossal
Drop that make it boomerang
Take my belt off, bitch I'm Pootie Tang
Tippy tow tippy tay you gon' get a tip today
Fuck that you gonna get some dick today
I walk in with my crew and I'm breaking they necks
I'm looking all good I'm making her wet
They pay me respect they pay me in checks
And if she look good she pay me in sex (do it)
Bounce that () it's the roundest
You the best, you deserve a crown bitch, right on that [Hook][Verse 2: Nicki Minaj]
Wobbledy wobble, wo-wo-wobble, wobbin'
so fat, all these bitches' pussies is throbbin'
Bad bitches, I'm your leader, Phantom by the meter
Somebody point me to the best -eater
Tell 'im "Pussy clean!" I tell them "Pussy squeaky!"
Niggas give me brain 'cause all of them niggas geeky
If he got a mandingo, then I buy him a dashiki
And bust this pussy open in the islands of Waikikiiiiii…
Kiss my and my anus, 'cause it's finally famous
And it's finally soft, yeah, it's finally solved!
I don't know, man, guess them shots wore off!
Bitches ain't poppin', Google, my
Only time you on the net is when you Google my
Y-y-you fuckin' little whores, fu-fuckin' up my decors
Couldn't get Michael Kors if you was fuckin' Michael Kors
B-B-Big Sean, b-boy, how big is you?
Gimme all yo' money and gimme all yo' residuals
Then slap it on my , , …[Hook][Verse 3: Big Sean]
Woah, white girls, black girls, tall girls, fat girls
Shake that shake that , shake that
Shake that , shake that , shake that
Go, go
Short girls, small girls, skinny girls, all girls
Shake that shake that , shake that
Shake that , shake that , shake that
And I want all of that[Hook]Go stupid!
Nicki Minaj being embraced by her adoring fans.
 Nicki Minaj in black suede leather stiletto boots.
 Nicki Minaj smiling while she addresses the mic on stage.
Nicki Minaj walking in a beach wearing a pink thong and bra.